Paintings
Commissioned by the
Versacare Foundation
Versacare envisioned the need for artwork that communicated its commitment to Jesus Christ and demonstrated how Jesus made his presence felt in this world. We communicated our concept to artist Nathan Greene and commissioned him to create the beautiful oil paintings, Chief of the Medical Staff; The Family of God; and our latest, I was Hungry.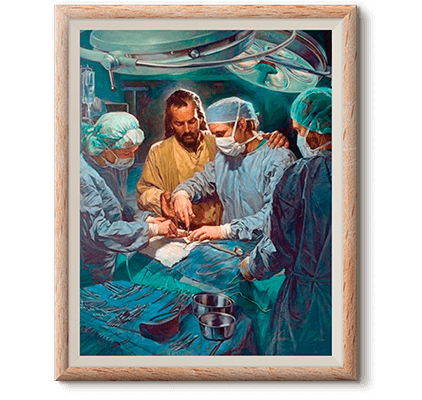 CHIEF OF THE MEDICAL STAFF
Artist Nathan Greene
Chief of the Medical Staff depicts a surgery underway and finds Jesus in the midst of the scene, guiding the surgeon's hand.
We have the original oil painting on loan to Florida Hospital in Orlando, Florida, where it is prominently displayed in the lobby.
There, anxious families awaiting news of their loved ones gaze at the painting and draw peace and encouragement from its message.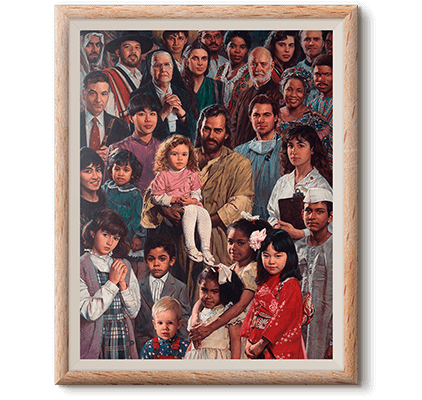 THE FAMILY OF GOD
Artist Nathan Greene
The Family of God depicts Jesus Christ as the source of brotherly love and religious freedom and tolerance. This work also conveys the universality of Christ's acceptance of all of His children, regardless of race, gender, age or creed.
It hangs, on loan from Versacare, in a prominent display case in the lobby of Loma Linda University Medical Center, Loma Linda, California. With terrorism dominating the news hour, we see this painting as a reminder that only in the love, acceptance and forgiveness demonstrated by Jesus do we find hope for man's future.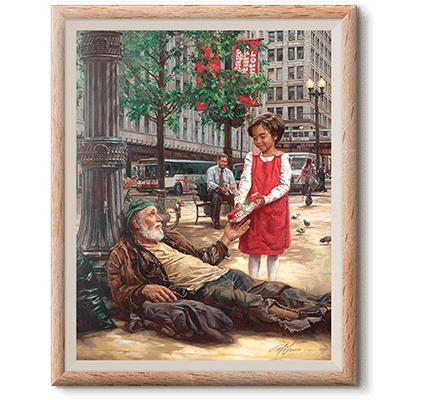 I WAS HUNGRY
Artist Nathan Greene
I Was Hungry depicts a young Christian reaching out to provide her lunch to one less fortunate. This is the essence of Jesus' words in Matthew 25:35,36. Once again artist Nathan Greene has through subtle nuance brought life to one of the most famous sayings of Jesus.
The original oil painting hangs in the lobby of the North American Division of Seventh-day Adventists in Columbia, Maryland.